EB Spares Ltd - Alfa Romeo Parts & Spares

Phone:(UK) 01373 823856 - Intl.(+44) 1373 823856
Email [email protected]
31 Link Rd, Westbury, Wilts, BA13 4JB

Home
About Us
Latest News
Customers
Prices
Your Quote
Brakes - for Alfa 105
We are world leaders in providing equipment which will make your Alfa perform better, but we also carry essential components to make it stop

Using specialist knowledge which dates back thirty years, backed up by our own company in Italy, we are able to offer both original and non-original parts at world-beating prices. We provide daily updates of parts which are becoming difficult to find or being phased out, converseley we are first to know when production of a long awaited part is resumed. All you need do is watch our website for regular updates.
Dual Circuit cars
Dual circuit RHD cylinders and LHD brake master cylinders for 105 series cars (servo fitted type) always in stock.
Earyl USA underfloor dual circuit cylinders are no longer available.
Single Circuit Cars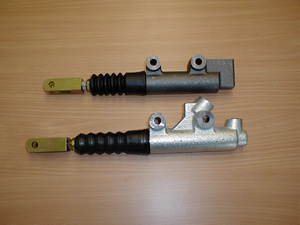 As well as having the Benditalia brake cylinder, of which we have sold thousands over the years, there are now two more additions which will undoubtedly make early Giulia ownership a lot easier. Rather than trying to make one type fit three applications, a task everyone has been forced to do in the past, we now have available two ATE types of under floor fitting brake master cylinder which really complete the set.
10506.45.020.04 ATE TYPE is the 20mm bore size for early cars without brake servo.
10514.45.020.07 ATE TYPE is the 22mm bore size for later cars with brake servo.
Our illustration shows the familiar Bendix type, which needs no further description, plus the newly available ATE style.
Brake servo units
for single or dual servo and LHD cars, are readily available, only original Bendix are recommended. 105 series cars. Servos for ex-USA Spiders are a speciality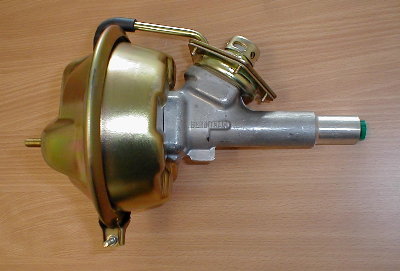 Calipers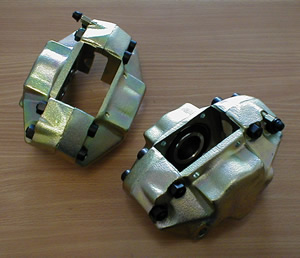 New front brake calipers are available again for 105 series 1750/2000 GTV and Spider. These have been in short supply for several years and are a welcome sight on our shelves. Factory reconditioned units are still available for 1300 & 1600 front and for all ATE type rears.
With most cars being over 30 years old there is a limit to the number of times the old original calipers can be rebuilt by DIY owners and with more stringent MOT testing it is essential to have satisfactory stopping power.
ATE Rear brakes
We have new rear calipers, back plates, pads and fittings kits, both std and drilled and grooved rear discs, handbrake shoes and fitting, as well as caliper rebuild kits, bleed screws and operating cables.
Discs and pads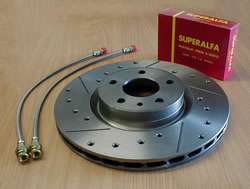 We stock standard and sports discs for all ATE equiped cars.
SUPERALFA brake pads. Made especially for the Alfa range---105. We sell thousands of sets of these Italian made brake pads every year, but forgetting the price, quality and availability (all important factors)-they really stop the car !
We are sole importers for SUPERALFA. We also stock Aeroquip braded hoses for all 105 models.
If you need help in deciding what to purchase we'll help you as our experience dates back to the days when these cars were new!