Five years ago we asked Cromodora to make us a batch of 1970s style aluminium wheels but rather than choosing the familiar multi-spoke pattern we decided upon a wheel which was listed, in the 1970s, as optional. This wheel is not only nicer looking but rarer and typical Alfa in overall appearance.
Details: Colour silver. Size 6J x 14. PCD 108/4.
Each wheel is complete with 4 x chrome nuts, 1 x tyre valve, 1 x black/grey Alfa centre badge AND 1 x Cromodora centre badge---some owners prefer these !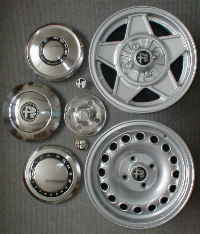 Click here for enlarged view