The 10541.13.080.00 bush has always been regarded as too soft for most Alfa enthusiasts who prefer a tauter ride.
As well as supplying 10541.13.080.00 we are now able to offer again the old style 10508.13.091.01 bushes. We can also supply aluminium stiffening plugs as used by Alfa Romeo and Autodelta in the 1960s. These plugs push into the two purpose-made recesses (see picture) in the bush (as per Alfa Direzione Assistenza information sheet 1.05.032/1)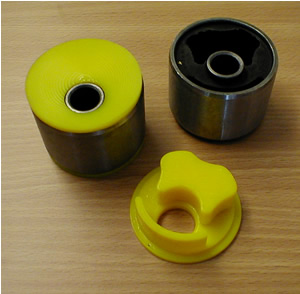 Also for 10541.13.080.00 we can suypply inserts made of polyurethane for fast road and race type conditions.
These inserts fit into the original mount and remove any excessive movement in the oriignal mount.